Our First Weekend Session 
We are pleased to offer the first of what we hope will be a continuing series of weekend presentations.  Our first guest presenter is Dr. Sarah Hutchens, Optometrist and she will talk about her work with Vision Therapy.  Her work is helping many children who have learning disabilities and has been written about in The Telegram ( 
https://www.thecentralvoice.ca/news/regional/mom-shocked-by-daughters-diagnosis-26023/
).  Dr. Hutchens says that vision is more than seeing 20/20, so this might be of interest to you whether or not you or your child wears glasses.
Date:  Saturday, March 30th
Time:  To be decided based on preference – please indicate whether morning, lunchtime or afternoon is preferable for you
Location:  LDANL office
RSVP:  edie@ldanl.ca
As you know, our space is limited.  Please reply to edie@ldanl.ca to save your spot as it will be first come first served.
We hope to use these weekend presentations as a small fundraiser for our programs (all funds collected will go to LDANL,  Dr. Hutchenson has graciously offered her services for free).  We suggest a donation of $20 but nobody will be turned away.
Needs Assessment 
We would like your input to help us expand our services and supports. We invite you to please complete the Needs Assessment Survey below. It can also be accessed through the menu. We strongly encourage you to share this survey with anyone who has a learning disability and/or those who support them.
https://docs.google.com/forms/d/e/1FAIpQLScI364kxL81rnGGDx1Jq4JK1-tKGN4IS7weseJeJyn0L1Xfpg/viewform?usp=sf_link
Accessibility Legislation – Public Consultation
The Department of Children, Seniors and Social Development is currently undergoing a process for reviewing and developing new legislation around accessibility. They are seeking input from individuals, advocacy groups and community stakeholders. They want to know what barriers people with Disabilities face and how to prevent/remove them. Print access is a barrier for many people with Learning Disabilities! Have your say! Follow this link to input your thoughts:
Masons Donation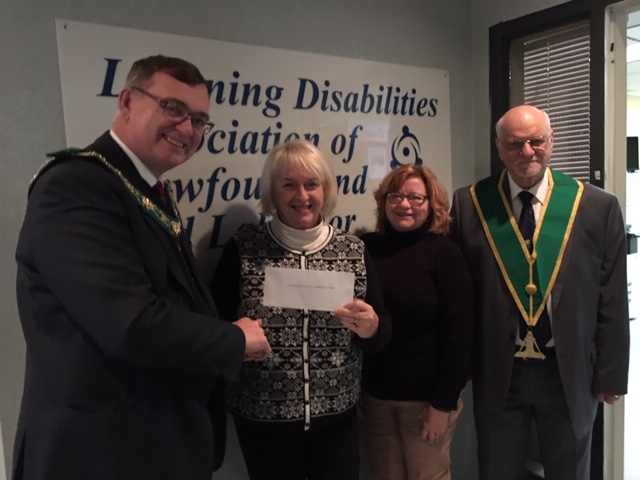 We feel very fortunate today to have been the recipients of a generous donation from the Masons. This will help us run our tutoring program and is so greatly appreciated. Pictured below are Bro. W. Scott Bartlett, District Grand Master and Bro. Paul H. Miller, District Grand Almoner of the District Grand Lodge of Newfoundland and Labrador, presenting the cheque to our Chair, Lynn Green and Executive Director, Edie Dunphy.